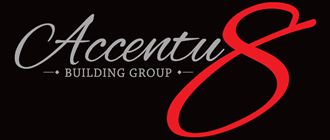 About Accentu8 Building Group
Accentu8 Building Group is a partnership of an onsite carpenter/builder and a construction manager with over 35 years trade experience combined and a passion for bringing your project to life.
Whether it be a multi-unit development or your dream home, Accentu8 Building Group have the skills and expertise to complete your project to the highest possible standard and within a timely manner, with their meticulous attention to detail and extensive trade knowledge.
Accentu8 Building Group have found a niche in the unit development market and believe that once you thoroughly compare your quotes, you will find they offer above standard fixtures and finishes to make your unit development stand out from the rest, while still remaining competitive.
Accentu8 Building Group provide a completely finished dwelling at the time of hand over, so you can move in, sell or invest immediately without any delay.
Accentu8 Building Group also have the ability to work in conjunction with architects and council therefore providing the support needed to put your ideas on paper to create your dream or maximise your land for a development.
Accentu8 Building Group qualifications include:
Registered Domestic Building Practitioner DBU-31369
Certificate IV in Domestic Building
White Card holders
Qualified carpenter
Qualified plasterer
Registered HIA Member
Registered Master Builder – 166662